Production
Many companies express the importance of their machinery and equipment in the manufacturing process. Although we recognize their importance, we feel our employees are the backbone of our manufacturing process.
Our machinists have an average of over 15 years experience in our shop, with a few over 20 years. All of our employees are dedicated to providing our customers with the best possible product.
General Hydraulics Corporation has been manufacturing hydraulic manifolds for over 50 years. This has allowed us to refine our manufacturing processes to be efficient and effective. We manufacture parts in steel, stainless steel and aluminum. Our weight limit is 2 tons. Brazed (laminated) manifolds can be as large as 32 inches wide by 60 inches long with a height of 10 inches. When designing drilled manifolds, the weight limit becomes a factor before size does. We have tooling for the standard "screw in" and "slip in" valves. Our machinists would like a chance to show you what they can do.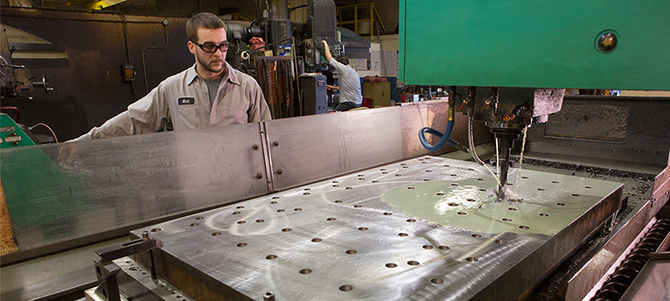 Quality
From the time we receive your order to the moment it goes out the door the utmost care is taken to assure the quality of your manifold. We are ISO 9001-2008 certified and very proud of that. As your order makes its way through our shop it is inspected at each checkpoint to assure accuracy and quality. It also gets a final inspection after manufacturing is complete. Whether it is a laminated or a drilled manifold we assure the same high quality and optimum performance while in service. Reports reflecting this are available upon request. Since our manifolds are custom made per your specific instruction we strive to achieve your satisfaction.
Design
With over 50 years of experience designing quality custom manifolds you can feel confident in our design processes. Our in house engineers will work side by side with you to make sure you get the exact manifold to suit your needs. This is the most critical part of the process, we design your manifold from a circuit, bill of material and any other information you provide. We specialize in steel, aluminum and stainless steel. Once the part drawing is complete it is sent to you for final approval and make any changes necessary. We will work with you to be sure that the size, material and design meet your exact specification before we begin the manufacturing process.
Customer Service
Customer service is the cornerstone of General Hydraulics Corporation, without you there is no us so your satisfaction and approval is paramount to our continued success. From our engineering department all the way to our shipping department our employees are determined to produce a quality product to meet your exact specifications. Whether it is a large manifold for small manifold, laminated or drilled, every aspect is tailored to your needs. And if there ever is an issue with one of our parts you can rest assured it will be corrected in a timely manner.